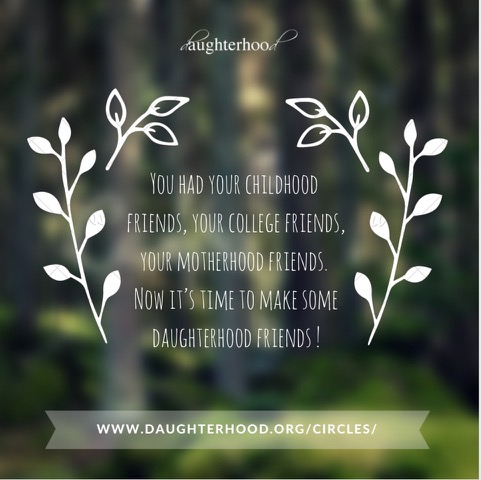 The next Daughterhood Circle meeting is

Tuesday, February 27, 2018.

 We meet at Atria Campana del Rio, 1550 East River Road, Tucson, AZ. 
A Daughterhood Circle is a small group of women who get together regularly to hang out, relax, and help each other navigate caring for their aging parents.  A growing population means more people – particularly women – find themselves with unexpected responsibilities for a frail parent's care. Daughterhood Circles aim the power of community and friendship directly at the challenges that come with this new phase of life.  For more information on Daughterhood go to daughterhood.org.
I am honored and blessed to be the leader of the Daughterhood Circle in Tucson, AZ.  We meet monthly from 5:00 – 700 pm.  The first half hour is a time to mingle and chat with other members.  The program starts at 5:30 pm.
If you are a daughter caring for your parent and would like to join us, please RSVP to:
Phone:  520-529-2116
Email:  jodi.s.hempel@gmail.com