Upcoming Events
November 10-12, 2017: Second Annual National Caregivers Conference, Chicago IL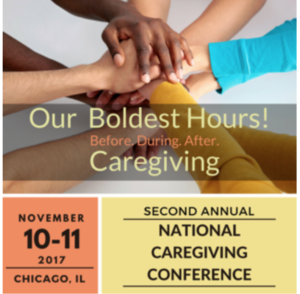 Join me in Chicago for the Second Annual National Caregiving Conference and experience two days filled with inspirational speakers (like Teepa Snow!) and workshops.
I'll be co-presenting,  Effectively Communicating with Your Carees with Debbie Howard. We'll talk about how to start the conversation about sensitive topics with your caree. Debbie and I will share how we did it and help you put together a plan to start.
I'll also be presenting as part of a panel discussion titled, Your After Life / Bolder Than Before: How Death Taught Me to Live.
Past Events
WEBINAR: University of Arizona Online Alumni Career Workshop – Career and Caregiving – December 7, 2016
WEBINAR: Built to Care – Turning Family Caregiving Mistakes into Steps for Success – September 29, 2016
VoiceAmerica – Making Money Fun by Heritage Financial Strategies.  Taking Care of Your Aging Parents, What You Need to Know NOW! – September 23, 2016
https://www.voiceamerica.com/episode/94446/taking-care-of-your-aging-parents-what-you-need-to-know-now
Caregiving and Your Career Virtual Conference – Managing a Caregiving Crisis – Panel (1:27:00) – September 18, 2016
http://www.caregiving.com/caregiving-and-your-career-virtual-conference/