Life: The Next Phase.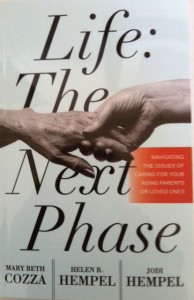 Do you have a parent or loved one who is one of the over 40 million seniors in the U.S.?  If so, this book is for you.  It is designed to help you navigate the most common issues of your aging parents or loved ones.
It provides you with practical roadmaps that guide you through four of the situations they are likely to face:  needing part-time assistance, needing full-time assistance, handling a crisis, and preparing for what might happen in the future.
This book gives you best practices and tools so that you can help your parent or loved one live the highest quality of life for their situation.  And it will help you care for them without losing yourself in the process.
Praise for Life: The Next Phase
"Navigating the predicable dilemmas of aging parents requires compassion, communication and a plan.   Life: The Next Phase offers all three in a clear, concise, and practical format. It is a welcomed resource for caregivers and professionals alike." -David Solie, MS,PA, Author of How to Say it To Seniors: Closing the Communication Gap with Our Elders
"The underlying philosophy of stepping in (together with), not stepping over your aging parents' desires underlies this practical book's roadmap through the important areas of concern for your loved ones' present and future wellbeing." -Grace Lebow, MSW, Co-Author of Coping With Your Difficult Older Parent: A Guide for Stressed-Out Children
"With clarity of purpose and well-conceived organization, this pragmatic guide provides assurance and relevant information to stressed family caregivers." – Barry J. Jacobs, Psy.D Author of The Emotional Survival Guide for Caregivers: Looking After Yourself and Your Family While Helping an Aging Parent
"Organized by the type of care needed, this book explains relevant financial and legal issues, as well as sometimes more difficult topics such as how to talk with the person being cared for about his or her needs and how to coordinate wishes and efforts of family members. The step-by-step instructions for making and implementing care plans provide invaluable support for caregivers. I wish it had been available when I was caring for my own parents through their last illnesses." – Leslie J. Harris, Dorothy Kliks Fones Professor of Law, University of Oregon
"I'm reading this book and love it. Why? It reads soft and clear. There is a kindness and goodness to the words. There are clear instructions wherever I look in the book. It doesn't feel like a 'have to' read but a pleasure to search out answers. If a person is trying to figure out how to help a loved one, this book will direct you how to do that. Main emphasis: Don't become the parent and there's a way to do that. Read the book.  Who else should read this book? Me! Before I get to this time in life and need others to help me." – Sharon T. via Amazon
Buy the Book
Life: The Next Phase is available online at Amazon.com and Barnes&Nobles (bn.com) in paperback and eBook formats.